Truck and dog policy developments
Two recent heavy vehicle policy developments offer productivity improvements and other benefits for truck and dog operators, but there are numerous conditions that operators need to understand. The new policies are described below. Please contact Advantia if you would like to take advantage of these opportunities.
'SPECTS' policy for the construction industry in urban New South Wales
The Safety, Productivity & Environment Construction Transport Scheme (SPECTS) is a voluntary scheme, developed by Roads and Maritime Services NSW (RMS). It is designed to increase productivity in the transport of construction materials and related products in the urban growth areas of New South Wales.
Under the scheme, participating vehicles will have access to an extensive network of state-owned roads in the greater Sydney area, including Wollongong and Newcastle, at higher masses than previously permitted.
A map of the network is available on the policy's Frequently Asked Questions page on the RMS website, and an extract is shown below. Unfortunately, no better map is available at this stage. RMS will publish an interactive online map before the policy 'goes live' on 1 July 2016.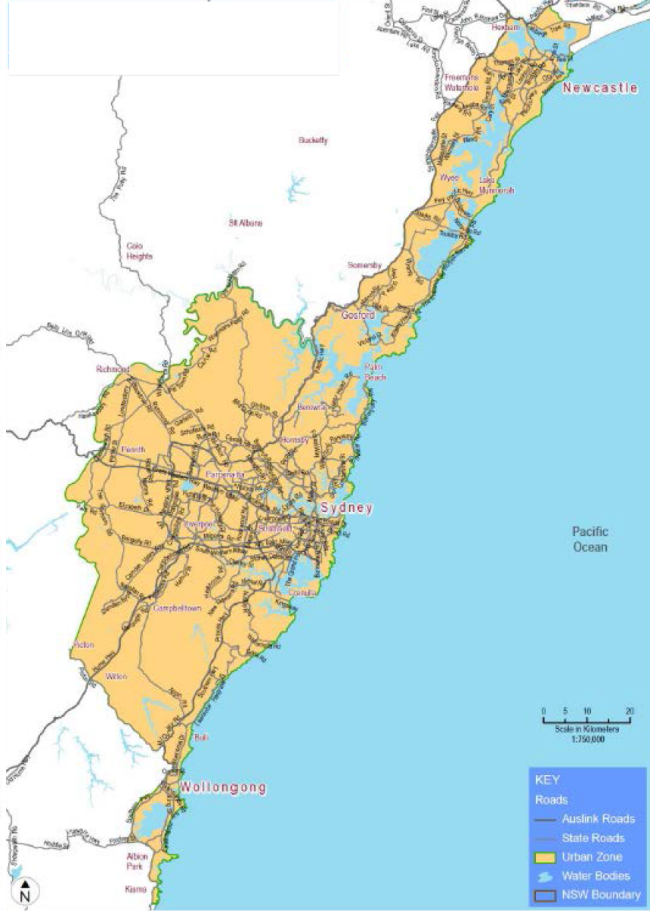 The types of heavy vehicle combinations that can be operated under the scheme are nothing new. Six- and seven-axle truck and dog combinations can be operated at up to 49.5 and 57.5 tonnes, respectively, as they have been able to do for some time under the National Heavy Regulator's (NHVR) Performance Based Standards (PBS) scheme.
What is new, however, is the greater level of access that SPECTS will provide. According to RMS, seven-axle truck and dogs at 57.5 tonnes will be able to access all state roads, and a range of local-council approved roads, within the shaded area shown on the current map. This represents a greater number of roads than the current PBS Level 2A network, which can be viewed on RMS's website. The only restrictions on state roads are the existing signposted bridge load limits.
Operators should be aware, however, that not all local (i.e. council-owned) roads within the defined area will automatically be included in the SPECTS network. Additionally, there are a number of important conditions that operators should be aware of. Vehicles are required to be PBS approved, enrolled in the Intelligent Access Program (IAP), and have approved On Board Mass (OBM) monitoring and GPS tracking systems fitted. The following vehicle equipment is also required:
Engines certified to Euro 5 emissions standards.
Systems to improve visibility and detection of vulnerable road users, such as side mirrors that provide a visual or audible warning if an object is within the vehicle's blind spot.
Enhanced vehicle visibility markings (e.g. reflective tape to provide a contour outline of the vehicle).
'Smart' reversing alarms that adjust the noise level to be appropriate for the environment that the vehicle operates in, fitted to both the truck and trailer.
Reversing lights fitted to both truck and trailer.
RMS is planning to introduce the requirement for all new trucks participating in the scheme to be fitted with Electronic Stability Control (ESC), and all new dog trailers to be fitted with a 'rollover control system'. Advantia understands that RMS may elect to apply those requirements from 2017 onward, but have not decided if they will apply the requirement to all vehicles operating under the scheme, or only those manufactured from a specific date onward. Accordingly, RMS encourages operators investing in new equipment to fit ESC and rollover control systems, to ensure that vehicles will comply with any future requirements.
Concrete agitators and quad-axle semi-trailers transporting construction materials can also operate under the SPECTS scheme. Semi-trailers will be able to operate at up to 50.5 tonnes, however the mass limits for concrete agitators are not presently defined. Advantia understands that the limits may mirror current axle load limits under the Higher Mass Limits (HML) scheme.
The SPECTS scheme is set to commence on 1 July 2016. Please contact Advantia to commence the process of meeting the scheme's eligibility requirements.
New national truck and dog notice
The NHVR has released its first gazette notice for Performance-Based Standards (PBS) vehicles. The notice allows three- and four-axle trucks towing three-, four- and five-axle dog trailers to travel on a gazetted network of routes without the need to obtain a permit. It is important to note, however, that any vehicle operating under the notice is required to have a PBS Vehicle Approval.
The full text of the new notice, including links to road authorities' network maps can be found on the NHVR website.