Gooden Ag and Their A-double Success
Gooden Ag is one of the growing cohort of businesses who can count themselves as PBS A-double operators in both Victoria and New South Wales. Brothers Shaun and Brett Gooden, who recently collected their new 30-metre Sloanebuilt A-double were looking forward to all the benefits it would bring their transport operation, but also importantly, giving them more time to really focus on their quickly expanding farming operation.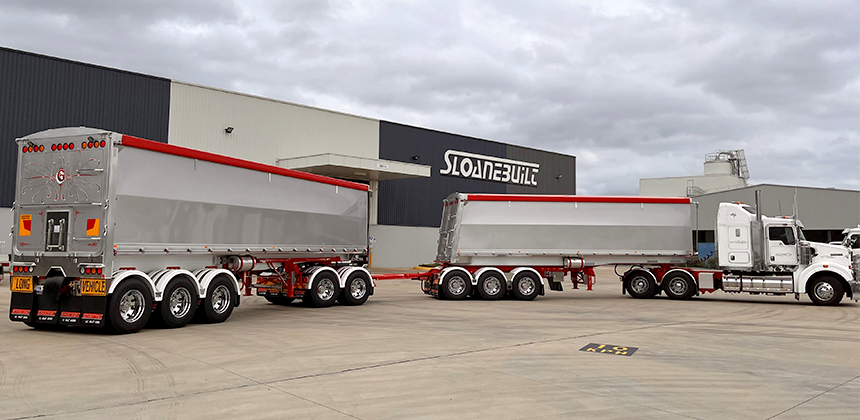 Moving from their 68.5 tonne B-double has allowed Gooden Ag to increase their carrying capacity by over 35 per cent per trip, and with round trips from New South Wales down to the ports of Melbourne and Geelong, that difference results in a huge increase in profitability. Including the price of the extra convertor dolly, Brett notes that the switch to PBS will "pay for itself in well under 12 months".
Using some basic calculations, and assuming carting revenue of about $70 per tonne, even assuming you come back empty, daily return trips would net over $1,000 extra per day. Now of course, there will be some extra costs here with TMA, fuel, tyres and maintenance, but the profits stack up quickly. Importantly, no extra drivers are needed for this jump in productivity.
However, the real win here for Gooden Ag is just the trip savings and the time Shaun and Brett have now freed up to prioritise elsewhere in their business. To do the same task as they would be doing with the B-double, they managed to cut out one in every four days behind the wheel!
Now, what is outlined here is what truck and trailer dealers all over the country will tell you can happen to get you to sign up for a new PBS combination. But what were the actual steps taken by Gooden Ag to achieve this success and what are the potholes you might need to dodge to achieve your own version of this story?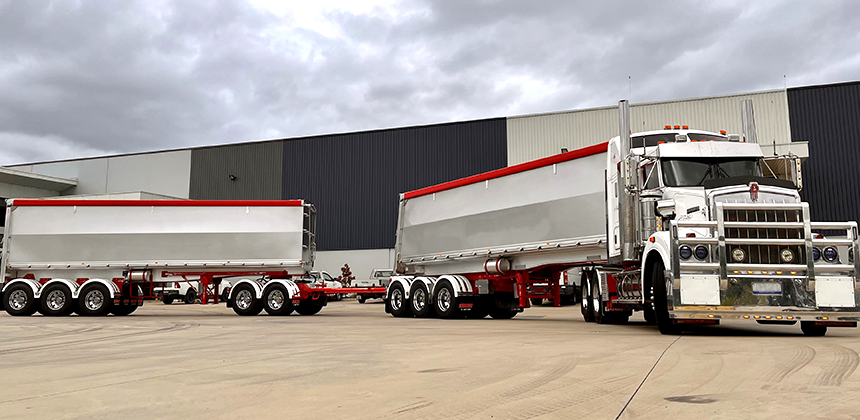 Firstly, planning here is key, and it started before the vehicle was even drawn up.
Both Victoria and New South Wales have A-double networks which give pre-approved access to key routes for operators, mostly the important state highways and roads. As an operator, if you want access to these networks with the least fuss it is imperative that your A-double matches the reference vehicle dimensions set out by both Victorian Department of Transport and Transport for New South Wales (they use the same vehicle). 
However, even small differences in dimensions can cause big headaches later if you are outside the reference dimensions. So compliance here is critical.
Luckily, with Advantia's help, Shaun and Brett were well aware of these requirements and when setting up the build with Sloanebuilt, they made sure that with Gooden Ag's Kenworth, the trailers and dolly, would match the reference vehicle.
Now while the networks will get you 90 per cent of the way, the council owned roads, i.e. the first and last mile, are still in question. To this end, Gooden Ag engaged Advantia to complete a series of 'In Principle' permit applications. These In Principle applications are like permit applications but can be completed without having a registered vehicle ready to go. If it all went belly-up and the last or first mile access got refused, Gooden Ag would still have been in the position to cancel the dolly order and just go with the B-double. Brett noted that "the In Principle access being confirmed allowed me to not worry about being stuck with a dolly we couldn't use".
Next thing to look at was the PBS Design Approval and assessment. Which forms the basis of getting PBS approved. Gooden Ag had their combination put against an Advantia owned A-double Design Approval to confirm it met all the required performance standards.
From here, with both In Principle access and his PBS Design Approval secured, Brett had all the groundwork in place to have the combination built, pick up his new A-double and get his permits in place, which with the In Principle outcomes as supporting evidence were just a process of confirming their vehicle hadn't changed from what they initially told them it looked like.
If you want to have success like Gooden Ag, please feel free to reach out to Advantia for all your PBS needs.