Route Surveys and Route Assessments
For certain heavy vehicle types, state road authorities and local councils require a route survey or a route assessment to grant access. These are detailed assessments of transport routes that highlight all potential hazards and, if required, detail the procedure to mitigate the identified hazards. Advantia can undertake these assessments to get your combination on the road.
DESKTOP AND PHYSICAL ASSESSMENTS
When a desktop assessment is required, Advantia will provide drawings, schematics and other documentation using our extensive knowledge of heavy vehicle performance. If a physical assessment is required, we can undertake a site inspection, identify all possible hazards along the route.
Our access to specialised heavy vehicle engineering software and expertise in assessing road performance for heavy vehicle access ensures the best possible outcome every time.
These assessments can be anything from a swept path overlay demonstrating the vehicle's geometry against an intersection or a comprehensive report outlining all relevant vehicle and infrastructure features, including:
Lane widths

Clear zones and crash barriers

Batter slope severity

Lane and shoulder widths

Sight distance

Road delineation

Ponding/flooding

Roadside signage

Bridge widths

Severity of grades

Crossfall and superelevation

Overtaking provision

Overhead clearance

Pavement quality

Skid resistance
CREDENTIALS
To complement Advantia's commitment to maintaining the highest level of quality, Advantia's senior staff maintain accreditation as road safety auditors through the Victorian Department of Transport. The road safety auditor accreditation requirement is beyond the legal requirement for route surveys but ensures that all areas of route applicability and safety are accounted for during an Advantia route assessment.
Vehicles that require route assessment
Councils can request a route assessment or a route survey for a variety of reasons. Often, it's in relation to 'last mile' access or where the vehicle may be considered to pose a risk to infrastructure. Typical examples include 20-metre B-doubles and 30+ metre A-doubles (road train) on local council roads (for 'last mile' access) and larger road trains (Level 3 and Level 4 PBS combinations).

Advantia's strong contribution to Route Assessment guidelines
Advantia has authored and co-authored several of the route assessment guidelines used by Australia's road managers. In addition, Advantia has had experience with using the guidelines from every jurisdiction and the PBS (national) Network Classification Guidelines. (Publicly available guidelines: NTC, TMR,RMS,DPTI,MRWA).
Typical considerations
The factors that are considered important for a route assessment depend on the jurisdiction and the route. Assessments requiring assessment on infrastructure and traffic consideration will generally require physical route assessment. Alternatively, where simulations like the one below can be undertaken to demonstrate safe turning performance of vehicles, this can be completed via desktop.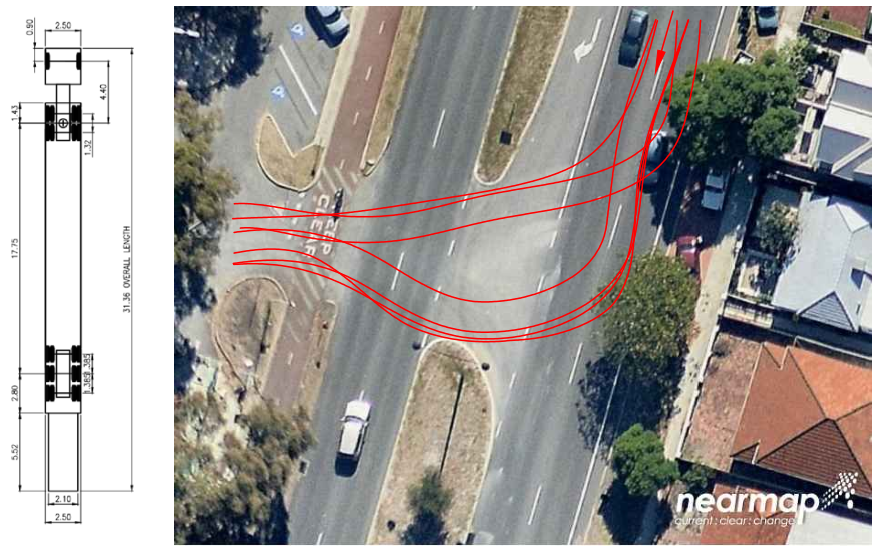 * Note, as a Class 1 vehicle undertaking this turning manoeuvre, traffic management measures supported this turn.
PBS: Linking VIC & NSW Seminars
In recognition of the PBS network alignment in Victorian and New South Wales. Victorian Department of Transport, Transport for New South Wales, NHVR, Advantia, Mass Management, V-DAQ and BTT Engineering are running workshop information sessions to provide industry with the insights, knowledge and detail for operating successful PBS operations in both Victoria and New South Wales.
Find out more
WHAT WE DELIVER
Applied knowledge of heavy vehicle performance to undertake route surveys and assessments for Class 1 and Class 2 vehicles
Integrated route survey and assessment solutions for in-field and desktop assessments
Findings and reports that are easy to understand and follow
What our clients have to say
We started using Advantia in 2014 after being in the PBS space for some time. The difference has been amazing; nobody else ever achieved their level of responsiveness, so they've basically taken the pain out of it.

Graham Lusty Trailers

We value the availability and responsiveness of Advantia's entire team. When a customer of ours has a PBS concept in mind, we often call on Advantia for some advice on the likelihood of it being approved, and the level of road access. If it goes through to the Design Approval stage, the service is prompt and the quality is high.

Barker Trailers

When ATE Tankers first entered the PBS market, Advantia was very accommodating in getting us started. They were quick to answer any questions and helped us introduce new PBS products to customers. We now have the confidence to work with customers on their unique PBS designs, knowing that Advantia is just a phone call away.

ATE Tankers